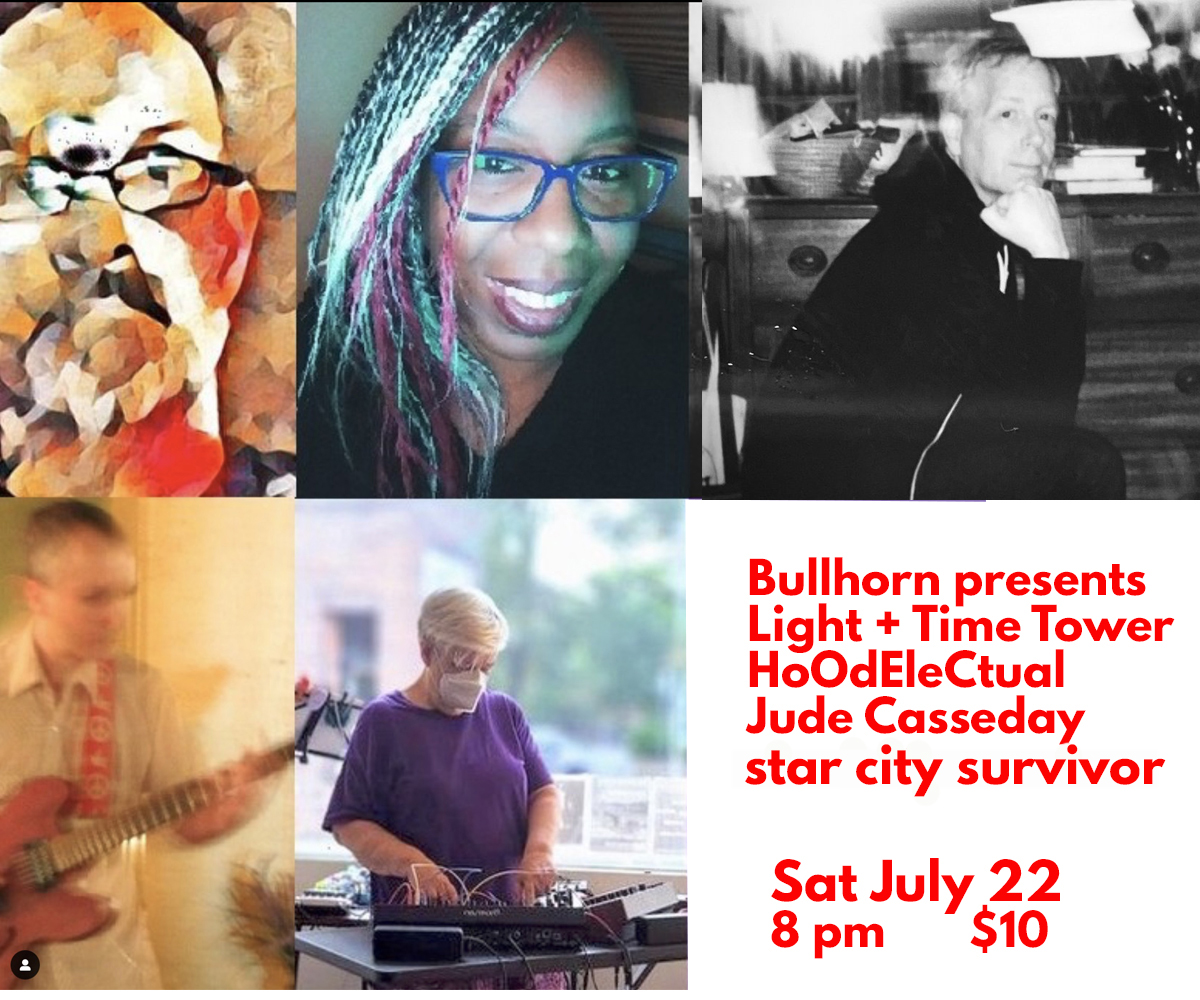 Bullhorn Fest presents Light + Time Tower, HoOdEleCtual with star city survivors, Jude Casseday
Bullhorn Arts, a Durham nonprofit that connects local artists and audiences, is proud to present an evening of electronic improvisations and spoken word featuring Light + Time Tower, HoOdEleCtual with star city survivor, and Jude Casseday.
Light + Time Tower, aka Christopher Scully-Thurston from Raleigh, North Carolina, composes and improvises electronic music for soundtracks, dance, and live performances. His piece "Eno Ripple" most recently supported choreographer Tony Johnson's work at the Duke Bryan Center and his music also appears on Bullhorn's digital record label, Ellerbee Creek Music, among other fine outlets
HoOdEleCtual, aka poet Tenal Alston, creates razor-sharp, hip-hop-inspired spoken word performances that cut right to the heart of her experiences as an artist, activist, and Black woman in Durham, North Carolina. Instrumentalists Phil Venable and Josh Zaslow back Alston up as star city survivor.
Jude Casseday aka dejacusse is a soundscape artist from Durham, North Carolina. Her work ranges from wild sonic experiments to structured compositions. Currently, Jude focuses her practice on attuning to all of the waveforms via The Field, which is dejacusse' modular synth set up. Her band iBoD (the idiosyncratic beats of dejacusse) enjoys Playing the Field on a weekly basis as an exercise in deep listening. Jude's soundscapes have been featured at the Durham Arts Council, The Carrack Gallery, NC Museum of Natural Sciences, Duke University The Art of a Scientist exhibits and American Dance Festival outreach classes. Audiorigami: Meditations on The Fold was chosen for inclusion in Chapel Hill Library's TRACKS collection of albums by local artists. A recent interest in sounding out scientific data has lead to a productive partnership with Dr. Erin McKenney and the Robb Dunn Lab at NCSU giving voice to bacterial ecologies in lemur microbiomes and sourdough starters. For more information on her work check out her interesting blog/artist statement and dejacusse on Bandcamp and Soundcloud.
This concert initially included Ken Moshesh and Friends. Ken is feeling under the weather this week, so Ken's Friends will keep the flame burning for him. Show Ken some love at kenmoshesh1.bandcamp.com
Tickets $10 at this Eventbrite link.
Doors 7:30 pm, show at 8 pm. BYO or sample what's on hand.