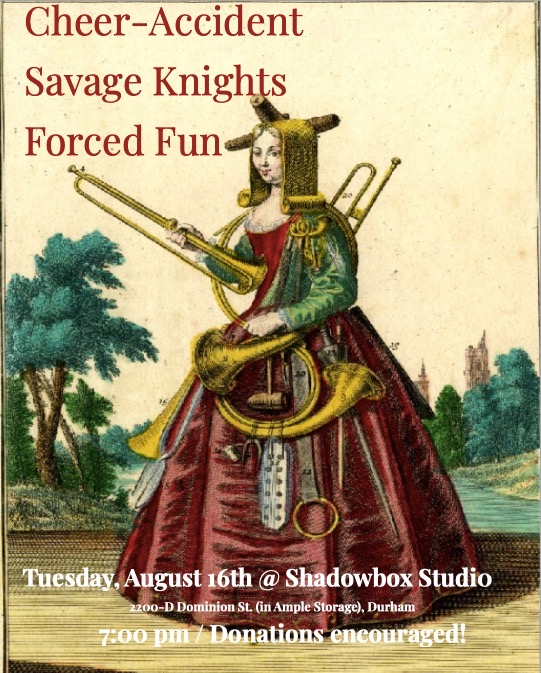 Cheer-Accident, Savage Knights & Forced Fun
A weird-'n'-fun rockshow for a lovely Tuesday night.
CHEER-ACCIDENT is a wonderfully idiosyncratic Chicago legend of a band, helmed since 1981 by drummer/multi-instrumentalist Thymme Jones. Their catalogue is vast but can mostly be described as "experimental rock": post-punk, prog, noise, chamber music, math rock, and many other flavors appear.
Jones is the only constant member of the band–and the membership is something of a who's who of Chicago left-field rock music: members of US Maple, Smog, Tar, Brice-Glase, and the Flying Luttenbachers have all been in C-A at one point or another. Their current lineup is a septet, "comprising of various members who have come and gone throughout the past two decades". Their latest record brings the usual dramatic gestures, no-wave gnarl, dynamics, oddball sensibilities, and a deceptively not-quite-straight Cheap Trick cover; Cheer-Accident is an arty band that loves to have fun.
Raleigh's SAVAGE KNIGHTS is one of Crowmeat Bob's more rock-oriented affairs. His long-term no-wave jazz-punk band with collaborator/drummer Mike Isenberg brings the noise and embraces punk's power but makes something a bit more complex.
FORCED FUN is a new Durham-ish trio with folks from Heartscape Landbreak, Wood Ear, Horizontal Hold, CantwellGomez&Jordan, etc. Upbeat and triumphant and sometimes funky and somewhat crooked post-punk-ish songs about depressing things.
Please bring some $$$ for Cheer-Accident, who are on tour. Ten bucks would be lovely, but no one will be turned away.
Show will be outdoors (in the alley behind Shadowbox) if the weather allows; please be kind and covid-smart. 🙂