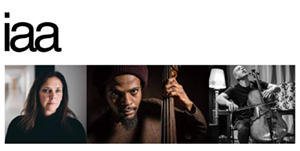 IAA presents: Keep The Channel Open with Jil Christensen, Luke Stewart & Daniel Levin
Come join us for an evening of performances!
We're creating an organization called Integrated Arts America, whose mission is to support artists in the exploration, creation, and performance of innovative improvised work across disciplines.
Tonight's concert features performances by Jil Christensen (moog one, Kurzweil Midiboard, live electronics), Luke Stewart (bass), Daniel Levin (cello), and also hybrid live / video work by Lisbon-based poet and multidisciplinary artist Agnes Redin in collaboration with Daniel Levin.
Tickets are a suggested donation of $20. RSVP here and/or integratedartsamerica@gmail.com
If you would like to purchase a ticket in advance, please make a note "Shadowbox".
paypal.me/IAAdonate
All proceeds from ticket sales will go towards the cost of presenting and producing concerts, support our friends at Shadowbox and to help cover the fees associated with registering a non-profit arts organization.
Beverages and light food will be provided.
__________________________________________________________
Keep The Channel Open Series takes its name from the advice that Martha Graham gave to Agnes de Mille in helping her to rediscover her unique creativity and voice, after being disoriented by the phenomenal Broadway success of "Oklahoma", which she choreographed:
"There is a vitality, a life force, a quickening that is translated through you into action, and because there is only one of you in all time, this expression is unique.
And If you block it, it will never exist through any other medium and be lost. The world will not have it.
It is not your business to determine how good it is nor how valuable it is nor how it compares with other expressions.
It is your business to keep it yours clearly and directly to keep the channel open. You do not even have to believe in yourself or your work.
You have to keep open and aware directly to the urges that motivate YOU.
Keep the channel open…
No artist is pleased…
There is no satisfaction whatever at anytime
There is only a queer, divine dissatisfaction
a blessed unrest that keeps us marching
and makes "us" MORE alive than the others."
– Martha Graham
Integrated Arts America reimagines Martha Graham's encouragement of de Mille as an invitation to all artists. It is our aim to provide artists with tools that support them in keeping their channels open, so they can share their unique voices with audiences.