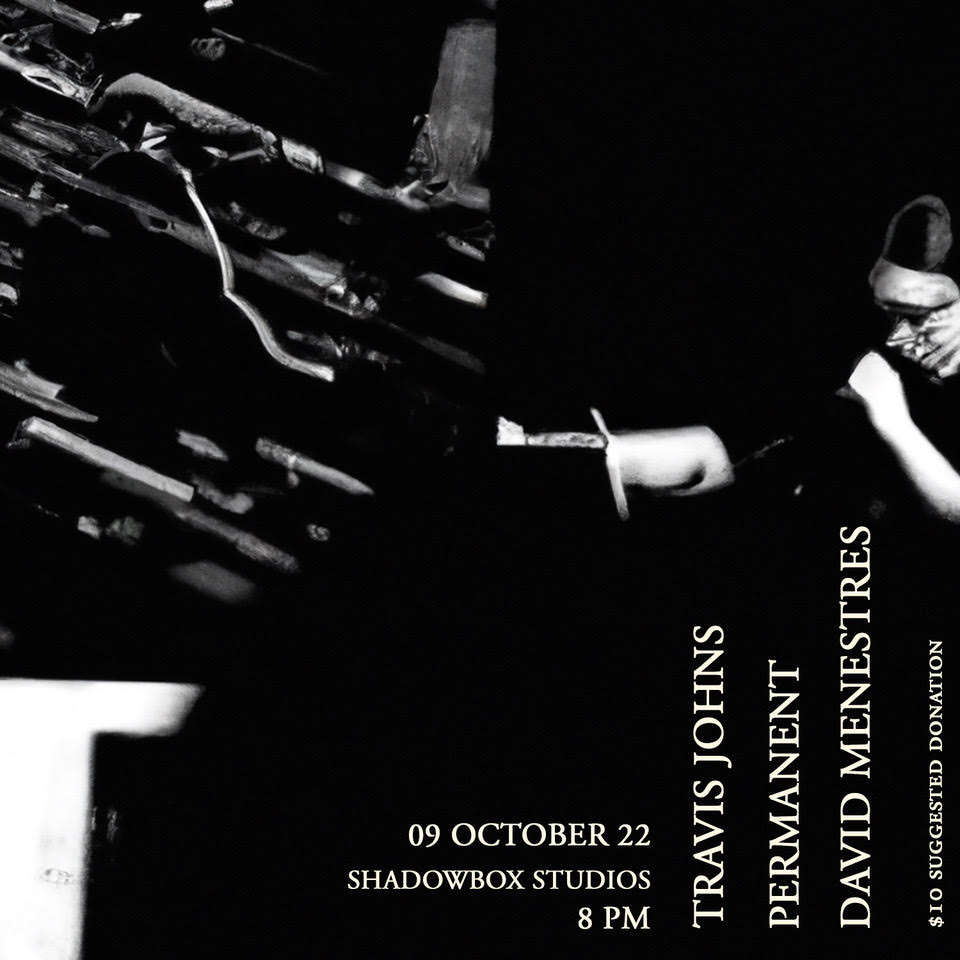 Travis Johns, Permanent, David Menestres
Travis Johns (b. 1983) is a sound artist residing in Ithaca, NY, whose work includes performance, interactivity, installation, and printmaking, often incorporating eco/bio-based themes and electronic instruments of his own design. As an improviser he performs primarily on electric bass and electronics; with studies in the field conducted under the tutelage of Fred Frith, Joelle Leandre, and Butch Morris, among others. Active in the San Francisco Bay Area experimental music scene for several years, Johns moved to Costa Rica in 2011 where he collaborated extensively with visual artist Paulina Velazquez-Solis on Raro, an immersive sound and sculpture installation that represented Costa Rica in the 2013 Biennial of the Central American Isthmus (BAVIC). Since returning to the states, first to Baltimore and later to Ithaca, he's continued to apply his trade as a composer, educator, sound artist and instrument builder under the nom de plume of Vaux Flores, with clientele and collaborators ranging from museums, theatre groups and dance troupes to Oscar award-winning film composers and Grammy award-winning musicians. He currently serves as the director of the Cornell University Electroacoustic Music Center.
David Menestres is a bassist, composer, writer, and radio DJ currently based out of Durham, NC. David is the founder of the long running Polyorchard project. His writing has appeared in Music & Literature, The Brooklyn Rail, Indy Week, Van, Bandcamp, and more. David is the host of the weekly Tone Science program on taintradio.org. The UK based writer Sammy Stein once described David's music as "something akin to staring an abyss in the face – and taking the plunge – full on, head first into annihilation."
Based in Durham, North Carolina, Permanent integrates hardware and deranged samples to make danceable industrial and techno.
$10 suggested donation. This show will be outdoors weather permitting, or indoors with garage door open.