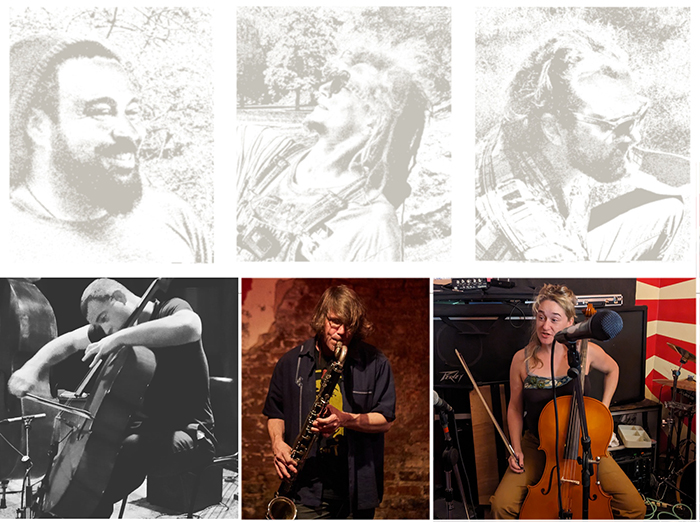 A Night of Cello: BASrelief + Daniel Levin & Crowmeat Bob + Emma Dunlap-Grube
BASrelief is a creative music group co-led by mandolinist Majid Araim and cellist Benjamin Shirley, with Julian Scott Bryan on percussion. The group seeks to fashion a space for the traditions of jazz, mountain music, and experimental improvisation to interact, with a focus on deep listening, dynamic energy, and collaborative composition.
Cellist Daniel Levin is "one of the instrument's most brilliant contemporary practitioners" (The Wire). Elements of European classical music, American jazz, microtonal and new music, and European free improvisation all figure prominently in his unique sound.
Crowmeat Bob is self- and friend-taught on guitar and reeds, composes for many different kinds of ensembles, and has played in improvised or otherwise situations with hundreds of musicians over the years. Most importantly, he provided sax for the John Goodman man-scaping scene in "Righteous Gemstones". Also, bass clarinet for some Kenny Powers Freakout scenes in "Eastbound & Down".
Emma Dunlap-Grube sums herself up in a ChatGPT-assisted verse:
Introducing Emma, a cellist with a heart full of glee,
from Iowa's Preucil School to UNC Chapel Hill and UMass Amherst's degree.
A hardcare force, she's unconfined,
both in teaching and her rockin' grind.
From Pauline Oliveros "13 Changes" to Suzuki's sweet embrace,
Their music journey is a joyful, melodic chase.
At Central Park School for Children, Girls Rock NC and Kidznotes, she imparts her grace,
teaching young hearts to find their own musical space.
She plays in the hardcore metallic band, Gown,
where the stage ignites with a sound so renowned,
and wields the electric bass in a black metal band, Antiquity,
where dark melodies in the night are without negative toxicity.
With values that guide her, for all to see,
In every chord she plays on her madcap cello spree.
She believes that each person has much to bestow,
Knowledge, skills, and gifts that continually grow.
In decision-making, she stands for the grace,
Of including all voices in that pivotal space.
On Oct 7 with cello in hand, on stage she'll endure,
Performing Crumb's Cello Sonata, an experience, to be sure.
And for metalheads' pleasure, a twist to admire,
A cello choir surprise (with special guests) that sets souls on fire.
Doors 7:30 pm, show at 8ish pm. Donations for performers appreciated.