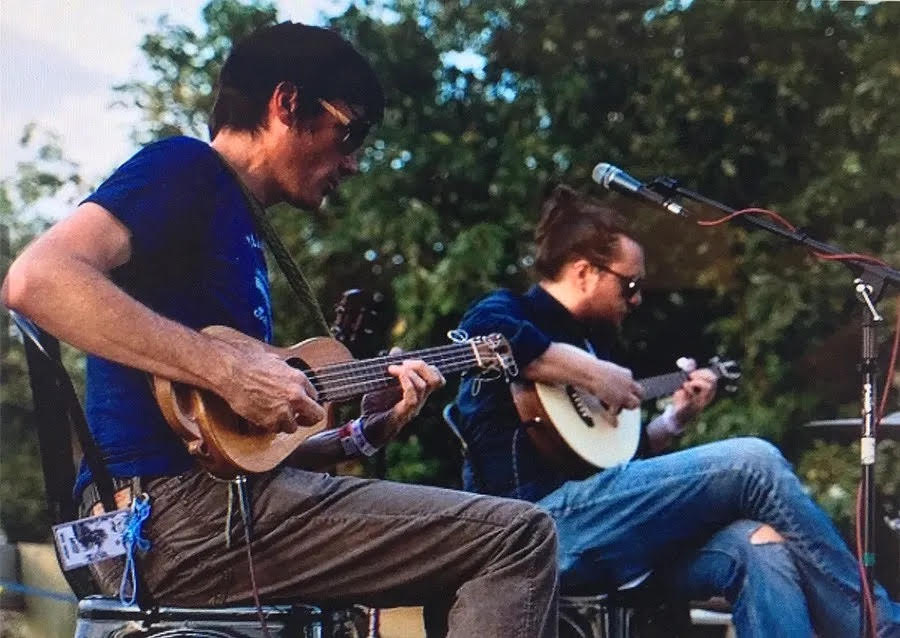 Bill MacKay & Nathan Bowles + Signal Lamp Ensemble
Suggested donation for the show $12-15. A Venmo link and cash bucket will be available at the show.
Bill MacKay is a Chicago-based composer, improvisor, guitarist and writer. He has created an extensive body of original work, while energizing the folk, avant-garde, and experimental diaspora. MacKay's blissful harmonic control and outside-the-box guitar mastery are one with his compelling songwriting, and his creative voyage and imaginative influences are fully displayed across his discography. MacKay is also a poet, visual artist and polyglot, and is a member of both the avant-garde rock outfit Black Duck (with Doug McCombs) and the experimental groove-drone project BCMC (with Cooper Crain). Nathan Bowles is a musician and teacher living in Durham, North Carolina. His work, both as an accomplished solo artist and as a sought-after ensemble player, explores the rugged country between the poles of Appalachian old-time traditions and ecstatic, minimalist drone. Although his recent solo recordings prominently feature banjo, Bowles is also widely recognized as a versatile drummer, and he considers himself first and foremost a percussionist, with banjo (and piano) as a natural extension of his percussive practice. Current projects include his trio with Casey Toll (Mount Moriah) and Rex McMurry (CAVE) along with membership in long-running projects Black Twig Pickers and Pelt.
"Keys," the debut album from Bill MacKay and Nathan Bowles, is, on the surface, a collection of guitar and banjo duets – but from the opening moment, it is clear that Bill and Nathan's agreed-upon duo is a living organism, growing as it goes. Behind the stately figures of "Idumea", a 19th century composition played out on their stringed instruments, a low organ drone hums persistently, signaling that this music, while coming from traditional places, is asking more of itself, seeking sparks of inspiration to light the path forward. Throughout Keys, Bill and Nathan propel their power-folk engine with intent and feeling, joy and solemnity, as images of wariness, wonder, anger, deliberation, forgiveness, trust and devotion rise up from the music and roll it forward into the unknown, a place we can sense both players are happy to go. Eight of the ten songs featured are originals, with the other two coming from different centuries than this one. The diversity of song is matched by the instrumentation: in addition to Bill's guitar and Nathan's banjo, they add voice, piano, percussion, pump organ, requinto and electric organ to the richness and rusticity, the traditionalism and open space of the compositions.
The sound of this music in the 21st century has a yearning quality, sometimes melancholy, sometimes rambunctious, but always reaching for something in between the strings, asking eternal questions that have been wondered and remain unknown: Where are we headed? What are we leaving behind? What deserves to be jettisoned, what held onto? When sitting together again to play music, who are we playing for? And for what purpose, to what ends? Will our ears be ready to hear it, whatever it is?
With "Keys," Bill MacKay and Nathan Bowles have begun to ask and answer these queries musically, in a unique, unified declaration.
Opening will be Durham's Signal Lamp Ensemble, a fluid grouping of local notables including but not limited to Evan Morgan, "Crow Meat" Bob Pence, Emma Dunlap-Grube, Oliver Child-Lanning, and Libby Rodenbough that formed to perform at an after party for the Cosmic Rays film fest. The ensemble accompany a 16mm film loop that provides both lighting and a steady sound pulse for them to build upon.
Suggested donation for the show $12-15. A Venmo link and cash bucket will be available at the show.