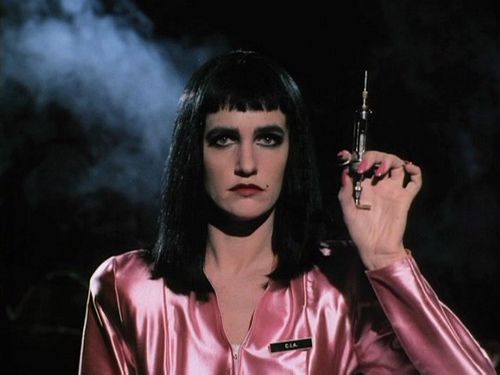 Movie Loft presents "Dr. Caligari"
Movie Loft weirds out this August with a screening of the 1989 surrealist Day-Glo wonder Dr. Caligari! From director Stephen Sayadian (a/k/a Rinse Dream, Cafe Flesh, Nightdreams, etc.), this fever dream ventures through and beyond the Cabinet, in high Expressionist style, like Cronenberg visiting the set of Pee-wee's Playhouse, but even more bizarre.
Dr. Caligari's granddaughter (Madeleine Reynal) conducts highly experimental hormone and shock therapies at her asylum, including libidinal treatment for the Van Houten couple (Laura Albert and Gene Zerna), along with her assistant doctor (Fox Harris) and a wild array of patients. Co-written by Jerry Stahl, full of jaw-dropping set design and costumes and props, music by Mitchell Froom and chockablock with art sleaze damage, this is one delirious, depraved, absurd, hilarious, gross and utterly brilliant and unique trip!
Accompanying records spinnin' and hot dogs grillin', starting at 7. Movie to roll around 8. FREE! Donations appreciated, BYO or sample what's on-hand. This will be an indoor screening.